Mansion Burned
The Scotsman, Aug 23, 1930.
Glenmoriston House.
MANY RELICS DESTROYED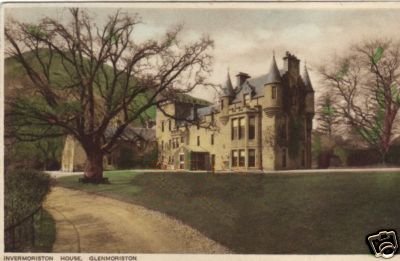 Glenmoriston House, a stately mansion in the Great Glen, on the shores of Loch Ness, some 30 miles from Inverness, was burned to the ground yesterday morning, and it is feared that many valued Jacobite and other relics, as well as many heirlooms, have perished in the flames.
Major I. R. J. Grant and Mrs Grant of Glenmoriston are in residence, and early in the morning Mrs Grant hoard a crackling noise. She called the servants, and it was found that the roof of one of the rooms was on fire. The alarm was raised, and crowds of people flocked from the village of Invermoriston, and every effort was made to subdue the flames, but there was a lack of appliances and a scarcity of water, while a high wind fanned the conflagration. Attention was then directed to saving the contents of the house, and a number of articles were saved, but the museum was entirely gutted. The house was a very old one, and had, been occupied for over a century.
The Grants of Glenmoriston are sprung from the Chief of Grant, and have been in possession of Glenmoriston for four hundred years, except for a brief interval after the first Jacobite Rebellion. The fighting tradition still lives in the family, and every generation since the '45 has seen sons of the house serving in the British Army. The present laird served in the Cameron Highlanders. Many messages of sympathy were conveyed to Captain and Mrs Grant in their irreparable loss, which is estimated at many thousands of pounds.