Rose Cottage and Allyvick
From Moriston Matters, Issue 25, August 1981.
The building of a new house (see below) on the site of what was once "Rose Cottage' may be an appropriate time to give some account of the old "Rose Cottage" and its main inhabitants. The word "main" is important, for "Rose Cottage" in even fairly recent bygone times was, being on the roadside, a favourite port of call for not only members of the family but wayfarers of many a kind, the once familiar and respected tramp and tinker, acquaintances, friends, etc. On the Free Kirk Communion Sabbath, for example, the house wou1d be packed.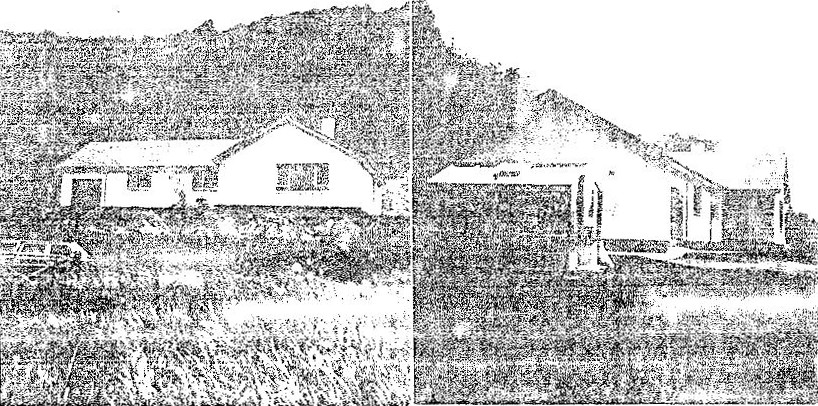 The main inhabitants of Rose Cottage for many years were Alexander MacDonald and his sister - Katie Archie to all, for they were of the MacDonald "Archies" of Achnaconeran. Kate, surely one of Nature's gentlewomen, instinctively kind to young and old and the animal world, was a much 'loved personality in and beyond the Glen.
But it is on Alexander that this article is centred. This Glen has produced many a character and worthy eccentric, our modern way of life might say - and it is hoped that the Glen will continue to produce them. But Alexander MacDonald of Achnaconeran and Rose Cottage, though by choice a retiring and unobstrusive person, must have been one of the most renowned of these old worthies.
Before going on with this article however, the writer wishes to make two points.
First, there are many, beyond doubt, stories and anecdotes about Alexander MacDonald, many of them known to the older inhabitants of the Glen. They will be based on a core of truth, of course, but will have a legendary dimension by now. What follows is based on the writer's own personal recollections. This is preferred in the interests of truth and accuracy; anyway, they will be enough to give a fairly full picture of the man.
Second, at the time of these recollection Alexander had his good days and bad days. Latterly, he suffered a great deal from rheumatism - it was said that in his prime he worked throughout the day no matter what kind of weather prevailed.
Alexander MacDonald was known to all as Allyvick. This is a corruption of Ally Bheag - wee Ally. He was a wee man, and slight in stature, but very strong and wiry and supple.
Perhaps the roost striking thing about him was his tremendous zest for life. You would be awakened very early in the morning to the sound of a song being sung outside in the garden. This was Allyvick - at six in the morning, often earlier - giving a rendering of "O Rowan Tree" to a rowan tree that was then in the garden. Often the early morning cuckoo would take him from his bed. He loved the cuckoo, and come July, when away the cuckoo would fly, it was his heartfelt wish that he would live to hear yet "another cuckoo". One of his favourite sayings was "I wish I could have the age of Mehusaleth", another "I wish I was forty tomorrow".
Allyvick, like many an old Highland worthy, had a reluctance to come into contact with such as doctors and ministers. Whenever one or other loomed on the garden step out he went like a spectre, out through the back and into the wood behind Rose Cottage . But it happened that once the Free Church minister, the late Mr MacLeod, caught him before he made his practised escape. Well, the next Sunday, Kate, a regular church-goer, was asked by Mr MacLeod how her brother was. She had no idea that this encounter had taken place and was somewhat taken aback when Mr MacLeod, himself a learned divine, went on to say that he had found her brother a "most interesting person" and a "fascinating conversationalist" .
Yet Allyvick, it. might be gathered from his own remarks, had not liked school. He spent, he often said, "three weeks in Standard 3". But he was remarkably well informed about current affairs. In these immediate post-war years his heroes were Churchill, Roosevelt and Monty, probably in that order. The writer of this article vividly remembers how he would take the sheet of a newspaper and tear pieces from it until there was left the outline of Northern Africa, Western and Eastern Europe. He would then proceed to show the various theatres of the war, in general and particular.
It is not easy to keep the gentleman in wayward plus-fours out of things. In these days, this gentleman lived, along with his brother Donald and sister Mary, in their old family home in Wester Achnaconeran. There was then a well-trodden path, beginning in the grounds of Rose Cottage, through the then deciduous wood to Achnaconeran. (It is most certainly completely obliterated now). The gentleman in the wayward plus-fours would take this path often. Now it happened that on Friday nights certain matters of business would detain this gentleman in the village. So that when he did manage to get away darkness had fallen. Not only that, the wood was thick. In these circumstances, navigation of the path was understandably difficult, and the detachable items of one's dress could easily go adrift.. In the case of the gentleman in wayward plus-fours it was one of his faithful caps that often was lost to an overhanging clump of saplings or bushes. Well, the next, time he called at Rose Cottage (his business affairs required that he visit the village again on the Saturday) a ritual would be performed. The gentleman in plus-fours would come in, sit down, the teapot would be replenished and placed beside the fire, the time of day would be passed, and so on. Then in due course Allyvick would delve into the space behind his chair, where he kept his fiddle and fiddle music and an assortment of tools and things, and fetch the cap he had found when getting firewood. He would tactfully place the cap on the plus-foured knee of the visiting gentleman. It was not until much layer afterwards that the writer of this article grasped why Kate would then shake her head and why the two men would begin to chuckle heartily and to exchange mysterious reminiscences.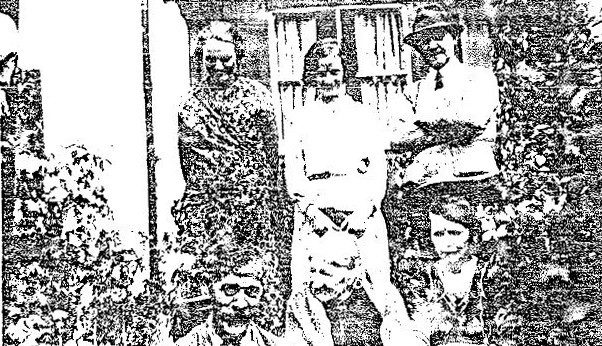 There were many facets to Allyvick, but we must conclude. We'll take one more facet - he was said to have the "second sight". Now it must be admitted that a great deal of legend tends to grow on the person reputed to have the second sight. Very often the predictions such a person makes are the result of shrewdness and observation - and Allyvick was a very shrewd and observant man. However, the following incident can be vouched for. The writer of this article was then in secondary school and no longer lived at Rose Cottage as he had done when he attended the primary school. But he continued to be at Rose Cottage quite a lot afterwards, when there were dances and pictures in the Hall, and there was always church on Sunday. This incident happened at the time the late Sir John Cobb was attempting to break the water-speed record on Loch Ness. It was Allyvick's custom to go, on "pension days", to the shop for paraffin and tobacco. On one such day, on his return, he began to speak about a man, a stranger, a tall man, who came from the hotel front door just as Allyvick was leaving the shop. The man began walking down toward the shop, Allyvick began walking up the road to Rose Cottage. But "something" as he reported, made him look round. The man had disappeared. What preoccupied Allyvick for the next few days was how the man had managed to "make the shop of it" so quickly. It will be remembered that at, the beginning of this article reference was made to the fact that Allyvick had his good days and his bad days. When he had his bad days, he never looked at the newspapers. However, one Sunday, after the incident just reported, one of his good days it was, he happened to look at one of the, dare one mention it?. Sunday papers (which were then available from the car that took them to the west. Incidentally. one recalls the fear at Rose Cottage, that the car with the Sunday papers would come at the same time as the "Church" bus) . Anyway there was a photograph of the late John Cobb on the front page of one of the Sunday papers. As soon as Allyvick saw this photo he announced that this was the man he had "seen" coming from the hotel. Now Sir John and his team had been in the hotel. Miss Jean Alexander had invited them there for cocktails, but not on the night Allyvick had "seen" John Cobb. These are facts. Shortly afterwards John Cobb was killed on Loch Ness.
We have attempted to unearth a photograph of Rose Cottage and Allyvick. But come to think of it - does a photograph of Allyvick exist? He may not have benn able to escape from a minister all the time, but. a person armed with a camera - escaping him or her would have been easy for one so wary and wily!
D MacD. (Duncan Or Donnie "Archie" MacDonald)
The new "Rose Cottage" was built probably somewhat quicker than the original, with construction taking just under 14 weeks from the laying of the first brick, to the final coat of paint, curtaining and carpeting.
The house itself is of timber frame construction, manufactured by the housing division of Andrew Oliver & Sons, a long established Scottish company. In fact it was 160 years ago in 1817 that Olivers first opened their doors for business in the small Border town of Hawick, and it is from these same premises that the Oliver business is controlled by Stuart Oliver, great-grandson of the founder.
Although a slightly more diverse business to-day, Olivers have been to the forefront of system built housing in Scotland for the past two decades, and have been particularly active in the Highlands and Islands.
The long-standing reputation of the company is well reflected in the high standard of fixture and fittings used in their homes., as those visitors to the house were able to see.
The new owner, Mr. J. R. Shaw, very graciously allowed the house to be opened as a show house for the weekend prior to his moving in, and apart from arousing a lot of local interest, serious enquiries have resulted from as far away as Falmouth in Cornwall and the Island of Bressay in Shetland.
The building work was undertaken by the local firm of Glen Survey & Building Co., who have for a number of years now, been erecting Oliver homes. At the short opening ceremony, Mr Stuart Oliver, was full of praise for the rapid and efficient way in which the new Rose Cottage was built. The building industry, he commented, comes in for quite a bit of "stick" from the press, often
with just cause, and it is only a pity that when you get a good example of system-building, and workmen who take a pride in their work, that, this receives no publicity at all.
Jerry Johnson, who is the Highland Region Manager for Oliver Homes, and also a director of Glen Survey, expressed his own tribute to all the local subcontractors whose team-work and co-operation had resulted in a difficult site being transformed in a remarkably short space of time.
JJ (Jerry Johnson)